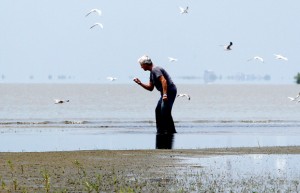 By
Michael Conathan
, Jeffrey Buchanan, and
Shiva Polefka
Healthy coastal ecosystems provide critical social and environmental benefits. While the existence of these benefits is not in dispute, estimating their economic value is challenging. Yet calculating these dollar values is crucial for the efficient management of coastal resources.
This report analyzes the economic benefits provided by 3 of the 50 coastal restoration projects that the National Oceanic and Atmospheric Administration, or NOAA, funded with grants from the American Recovery and Reinvestment Act, or ARRA, of 2009 and finds that each dollar invested by taxpayers returns more than $15 in net economic benefits for the three projects.
Read more and download this report here.
See also: Factsheet: "The Economic Benefits of Restoring Coastal Ecosystems"
  Center for American Progress | 1333 H Street NW, 10th Floor | Washington, DC 20005